Sign Up Now for Classes
Only 3 Days Remaining
Save 10% off Classes
Sign up for Classes by Sat Apr 6 at 5pm and receive 10% off
Clubs and Special Events excluded
New Teacher – Diana Consell
Diana Consell has been sewing since she was about six years old and started sewing for friends and relatives at sixteen. She has continued to hone her skills through ongoing education and finds as a member of the The Association of Sewing and Design Professionals and a founding member of the BC chapter she has access to a vast assortment of resources. Recently, Diana started taking ballroom dance lessons and found she loves all aspects of it from performing at competitions and showcases to social dancing at local venues. Diana has started teaching at Tom's Sewing Centre and wants to inspire the student to make sewing fun. If there are any sewing projects you would love to learn she wants to hear from you.
Garment Sewing 101
Learn to use your sewing machine to create a one-of-a-kind garment that you will be proud to wear. We will cover pattern and fabric selection and how to adjust our patterns for the best fit, as well as the basic details of garment construction in a relaxed classroom setting. Topics to be covered will include choosing a pattern in a style that will suit our body, fabric choices and pattern adjustments all the way to the finishing touches of Zippers and Hems. When we wrap up you will be able to tackle a multi-sized pattern with more confidence and have samples and notes for reference.
Date – Surrey: Tuesday, May 21, 28, June 11, 10:00am – 1:00pm
Fee: $67.50 + $8 Kit Fee
Instructor: Diana Consell
Skill Level: Basic Sewing Experience

Upcoming Classes
New! Kimberbell Event: Sewing with my Gnomies
A new two-day event with a sewing and garden theme! This event features Kimberbell Blanks: polka dot tea towel, buffalo check tote, and rectangle pillow form, plus darling scissors and tape measure. You will learn new techniques like over-the-edge appliqué and more! It's a cheery celebration, sewing with friends, and Kimberbell. Our Kimberbell event is a great way to have fun and get to know machine embroidery. This event is suitable for the beginner all the way to the most advanced embroiderer, you can even test one of our embroidery machines if you don't have one. During the 2 days you will make and finish 6 embroidery projects all in the hoop. Included with your Kimberbell event, you'll receive an exclusive sewing bag completely filled with Kimberbell fabric, paper tape and more to make six amazing event projects. We'll even cut the stabilizer for you! You just need to come with your machine and a few basic supplies and be ready to have fun. We will even provide lunch.
Date – Surrey: Friday, April 19 & Saturday, April 20 10:00am – 5:00pm each day or Monday, Jun 3 & Tuesday, June 4 10:00am – 5:00pm
Chilliwack: Monday, May 6 & Tuesday, May 7 10:00am – 5:00pm each day
Event Coordinator: Kerri Sketchley & Lori Bandong
Fee: $229
Babylock Event- Sergers
Babylock has released a whole new line of sergers and Donna Robinson the Babylock Rep is coming to show us what is different and absolutely amazing about Babylock Sergers. Can you imagine how easy serging could be if you didn't have to thread the machine? Your serging is about to reach a whole new level! With Babylock you have options such as RevolutionAir™ Threading that threads the loopers with just the touch of a button and then threads the needles with the touch of another. You'll also serge tension-free with the Automatic Thread Delivery™ System (ATD). There is so much more to see, you don't want to miss this event.
Date – Surrey: Thursday, May 2 10:00am – 12:00pm
Teacher: Donna Robinson from Babylock
Fee: N/C but must sign up as seats are limited
Babylock Event – Machine Embroidery
Donna Robinson from Babylock is coming to show us the advanced technology available from Babylock Embroidery Machines. Donna will demo some of the amazing things that can be done on the new Solaris such as the revolutionary new IQ Visionary™ Technology, you'll see how your design looks before you stitch it out and the built-in projector that displays your stitches and embroidery patterns on fabric in vibrant full color for perfect placement every time. You won't believe what this new machine can do. Plus there will be fun and prizes.
Date – Surrey: Thursday, May 2 1:30pm – 3:30pm
Teacher: Donna Robinson from Babylock
Fee: N/C but must sign up as seats are limited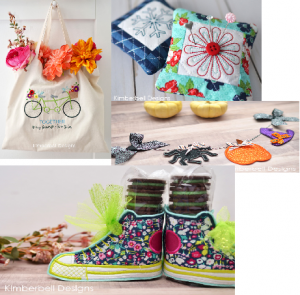 New! Kimberbell Social Embroidery Club:
Do you love to embroider? Do you love to share your work? Do you love to learn new techniques? We will be holding a social embroidery club and demo a new technique each month. Bring your USB to have new designs loaded each month. We will not be sewing during this club, just demos and sharing ideas. The club projects will be based off Kimberbell designs that are clever, whimsical and a fun way to learn different embroidery techniques. Even if you have never done machine embroidery before, you will enjoy this club. Kimberbell designs are so cute and have amazing instructions; this club will not disappoint you.
Date – Surrey: Thursday, April 11, May 9, June 6 10:00am – 11:00pm
Fee: N/C
Teacher: Kerri Sketchley/ Lori Bandong
Skill Level: Beginner to Advance Embroidery Skills
Crossbody Bag Trio, Volume 2: Botanical Collection:
Kimberbell's new collection of crossbody bags features three botanical beauties: Succulent, Pieced Rose, and Sketch Flower. In class we will stitch the pieced rose. With four sizes for each design, Kimberbell's signature in-the-hoop zipper pouches are quilted and fully lined with no raw edges or stabilizer showing. Just right for holding essentials, the zipper closer keeps everything securely inside.
Date – Surrey: Friday, April 12 10:00am – 2:00pm
Fee: $23 + Pattern $41.95
Teacher: Lori Bandong
Skill Level: Must have basic quilting and embroidery skills
Embroidery Level 1
Learn your about your Elna 830 or Janome 500 E. In this class Judi will walk you through your machine so you are familiar with its many functions. Understanding your machine will make any project you do on your machine a fun experience. So if you have purchased your machine at Countryfolk or Tom's Sewing this class is free to you!
Date – Chilliwack: Thursday, April 18 10:00am – 2:00pm
Fee: $15
Teacher: Judi Campbell
Skill Level: Beginner Embroidery
Using Your Computer Effectively With Your Embroidery Machine
Learn how to file on your computer. How to set up your internet to ask where to file your downloads. How to format and safely remove your USB Stick. How to save your downloads in your file system. How to work with a split screen. How to use your USB stick in your embroidery machine. Each student needs to have a working computer, USB stick and a mouse.
Date – Chilliwack: Tuesday, April 23, May 21, June 18 10:00am – 12:00pm
Fee: $45
Instructor: Trudi Forrest
Skill Level: Must have Basic Embroidery Skills
Free Motion Workshop
Come and practice your free motion. Learn to set up your machine and the tips and tricks to help make free motion fun. We will also discuss design choices and quilting threads.
Date – Surrey: Saturday, April 13 10:00am – 1:00pm
Fee: $23
Instructor: Cindy Newton
Skill Level: Beginner
Microwave Oven Mitts
This is a tiny perfect project, just right for after the Christmas frenzy of finishing everything on time. These could be a small gift for yourself, a hostess gift or the start of next year's stocking stuffers. Pattern supplied
Date – Surrey: Thursday, April 18 10:00am – 12:00pm
Fee: $ 15
Instructor: Cindy Newton
Skill Level: Must have Basic Quilting Skills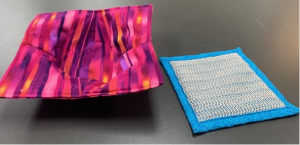 Soup Caddy & Jar Opener
Both these items are big hits in my family. People use the soup caddies to death and ask for another one. They go in the microwave around your bowl and act as an oven mitt to take the bowl out. It also acts as a warmer to keep the meal hot. And it is fun to use novelty prints to really make them personal. Soup caddies make a great little gift, and you can enclose a favourite recipe or two to really make it special. I use the jar opener in my kitchen on a regular basis. I wouldn't be without it. Easy to make and cute to give away.
Date – Surrey: Monday, April 22 10:00am – 2:00pm
Fee: $ 30
Instructor: Cindy Newton
Skill Level: Must have Basic Quilting Skills
Labyrinth
Do you have a panel you love but, don't have a pattern to showcase it properly? Please, come and join me using your panel and matching fabric doing this pattern that is fast and fun to do.
Date – Surrey: Saturday, April 27 11:00am – 5:00pm
Fee: $ 45 + Pattern
Instructor: Sandi Bajcar
Skill Level: Must have Basic Quilting Skills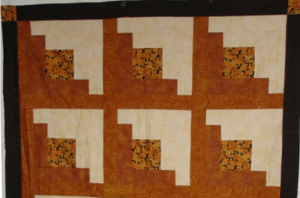 Log Cabin Beginner
In this class students will create a Log Cabin lap sized quilt, 42 x 52. They will learn fabric selection and preparation, rotary cutting, piecing, block joining, basting the layers, as well as the basics of machine and hand quilting in the six sessions. Supply list available. This fun quilt looks much more complicated than it is and will teach you everything you need to know to move on to more advanced projects.
Date – Surrey: Monday, April 29, May 6, May 13, May 27, June 3, June 10 6:30pm – 8:30pm or Thursday April 18, May 9, May 16, May 30, June 6, June 13 2:00pm – 4:00pm
Fee: $ 90
Instructor: Cindy Newton
Skill Level: Beginner
Cake Therapy and Beyond
We have a whole new line up of fun classes and patterns this next session of Cake Therapy. This time you can put patterns together to make a Block of the Month or simply make the patterns you like. If you haven't already attended Cake Therapy, then it's time you did and find out what you are missing. All we are going to tell you is it takes place once a month at both stores and there are NO FEES for these sessions, but there will be cake! And of course laughter, friends, coffee and tea! What quilter doesn't need a little "Therapy", so sign up today to reserve your spot.
Date – Chilliwack:
Wednesday, April 3, May 1, June 5 – 1:00pm – 2:00pm
Date – Surrey:
Thursday, March 28 – 2:00pm – 3:00pm or Sat Mar 30 – 9:30am – 10:30am
Thursday, April 25 – 2:00pm – 3:00pm or Sat Apr 27 – 9:30am – 10:30am
Thursday, May 23 – 2:00pm – 3:00pm or Sat May 25 – 9:30am – 10:30am
Thursday, June 27 – 2:00pm – 3:00pm or Sat Jun 29 – 9:30am – 10:30am
Sisterhood Retreats Embroidery Club
Welcome to another year of Hoopsisters Club. This year we have some really fun projects that you will create with the combination of your EMB machine and your sewing machine. This semester we will have 3 classes with the themes; Elegant Boudoir, Summer Time, and Fall. Each month we will work on one project from each "Theme". Most projects are a combination of machine Embroidery and sewing machine work. Summer and Fall theme months we will be working on the tree wall hanging so we will have 3 of the 4 completed in the set. In class we will start the project, go over tips on how to finish the project. Some projects will be covered over the course of 2 classes.
Dates – Surrey: Wednesday, April 24, May 22, June 26 10:00am – 1:00pm
Dates – Chilliwack: Tuesday, April 16, May 28, June 25 10:00am – 1:00pm
Fee: $21 each session (must sign up for the whole term)
Pattern Fee: $9.95 each session
Instructors: Lori Bandong/ Kerri Sketchley/ Jan Komori
Skill Level: Basic Embroidery and Sewing Skills
The 2019 Block of the Month is Fleur de Lis. If you have an embroidery machine with an embroidery field of 5" or more, you will have so much fun making this quilt. All the piecing and quilting are in the hoop of your embroidery machine. There are 5 sizes to choose from ranging from 5" to 9". Depending on your embroidery field and desired quilt size, you can make a wall hanging to King size quilt. This class is a great way to get to know your embroidery machine and make an amazing quilt. The block of the month will run from Jan – Jun.
Dates – Surrey: Friday, April 26, May 24, June 21 10:00am – 12:00pm
Dates – Chilliwack: Wednesday, April 17, May 22, June 12 10:00am – 12:00pm
Fee: $35/ month for the pattern
Instructors: Kerri Sketchley/ Judy Campbell
Skill Level: Beginner and Beyond
For more information on classes go to:
http://www.tomssewing.com/class_schedule.html


Tom's Sewing Centre
#102 – 8338 – 120th St
Surrey, BC
604-507-2841
Countryfolk Fabric
#5 – 45802 Luckakuck Way
Chilliwack, BC
604-824-5643