For Week 2, Unbelievable Savings on Selected Janome Memory Craft Sewing Machines
Janome is not going to put in a booth at the Creativ Festival in Abbotsford this year. We have a sales target to make by March 31, so we are going to start now and each week offer unbelievable prices on a selected Janome machines. We both win, you get an awesome deal on a sewing machine, serger or embroidery machine and we make our sales targets for the year.
For Week 2 of our sale, we're offering incredible savings on selected Janome Memory Craft Sewing Machines. These prices are so low, we can't show them on our web site but you can contact Tom's Sewing for more information but, be sure you're sitting down, because these prices will floor you!
Horizon Memory Craft 6700
The Memory Craft 6700 Professional provides the speed and precision critical to advanced sewing and contains serious features for the serious sewist. Sewing speeds of 1,200 stitches per minute make the MC6700P the FASTEST Top Loading Bobbin machine in the industry. The 10″ All-Metal Seamless Flatbed provides the perfect work space for projects large and small. In addition, quilters can enjoy exceptionally smooth quilt piecing with the included AcuFeed™ Flex Layered Fabric Feeding System.
Key Features:
200 Stitches PLUS 5 Alphabets
Maximum Sewing Speed: 1,200 SPM
Superior Needle Threader
One-Push Needle Plate Conversion with 3 Included Plates
Detachable AcuFeed Flex Layered Fabric Feeding System
10″ All-Metal Seamless Flatbed
Professional HP Needle Plate and Foot
6 LEDs in 3 Locations
Memorized Needle Up/Down
17 included accessory feet
Large Extension Table Included
Detachable Stitch Chart
Horizon Memory Craft 8200
What is so amazing about the Janome Memory Craft 8200QCP Special Edition. The sheer length of the arm space is impressive at 11″ ( 280mm ), ideal for large quilts, bridal dresses and those bigger home furnishing projects. As with all Janome sewing machines, stitch quality is a priority. With a built-in AcuFeed system for precise fabric handling and an easy-change needle plate to enhance straight stitch performance, rest assured this machine offers spectacular stitch quality.
Features:
Top-loading full rotary hook bobbin system
170 built-in stitches up to 9mm wide, including 3 alphabets
10 one-step buttonholes
Detachable AcuFeed Flex system
Auto tension system
Built-in, one-hand needle threader
Snap-on presser feet
Memorized needle up/down
7-piece feed dog
One-step needle plate conversion
1,000 spm sewing speed
Super fine needle position adjustment
Start/stop button
Speed control slider
Locking stitch button
Automatic thread cutter
Twin needle guard
Easy reverse button
Advanced plate markings
Individual and combination stitch editing
Adjustable knee lift
Auto-declutch bobbin winder
Extra-high presser foot lift
High resolution LCD touchscreen
Foot pressure adjustment
Maximum stitch width: 9mm
Maximum stitch length: 5mm
Pattern stitch length calculator
5 ultrabright LED lamps for shadow-free sewing
Double accessory bins plus upper storage
11″ to the right of the needle
Easy-set bobbin and bobbin winder
Straight stitch needle plate with right needle position for 1/4″ seam foot
Last stitch recall capability
Tactile jog dial
Special spool holder for long spools
Buttonhole with stabilizer plate for thick fabric
Horizon Memory Craft 9450 QCP
You've devoted yourself to an art form that creates a legacy. You deserve a machine that is as serious about your hobby as you are. Let Janome's Horizon Memory Craft 9450 QCP Professional take your creations to new heights. The Horizon Memory Craft 9450 QCP has all the features you require to simply sit, relax and sew. The large LCD color touch screen makes it so easy to navigate through the 350 built-in stitches, including 11 one-step buttonholes and 7 alpha numeric fonts including 9mm lettering and numbers. You can customize each stitch, including buttonholes, plus save as a favorite stitch. Sewing Applications gives you a variety of pre-set stitch functions, ready to sew zips, blind hem, buttons, quilting, rulerwork, patchwork and lots more.
Features:
Quarter Inch Foot without Guide
Quilters know that a precise quarter inch seam is the key to precision-pieced patterns. Personal preference often dictates the just-right pairing of sewist and accessory foot to achieve those results. The new flangeless Quarter Inch foot removes the guide from Janome's traditional O foot for improved visibility and exact seam placement.
Ruler Quilting
Expand your quilting options and take advantage of the wide array of precision templates on the market for ruler-guided quilting. Engage the Ruler Work mode in Sewing Applications and use the new Ruler Work foot (QR) to safely follow along the guiding edge of precision cut templates. Achieve beautiful and consistent quilting design results previously only available to long-arm quilters.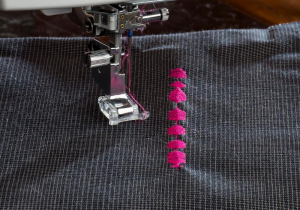 Variable Zig Zag Open Toe Foot
The new open toe Variable Zigzag (VZZ) foot (QZ) makes it easy to follow your stitch progress when using this unique Janome function. See precisely where you wish to widen or narrow your zig zag stitch with the hands-free adjustment of the knee lifter.
Open-Toe Darning Foot (PD-H)
For quilters who prefer to free motion with a darning foot, an opening in the front is a must! This open-toe darning foot makes the needle very easy to see.
The High Light™
The adjustable High Light and nine Ultra Bright LED lamps are everything you need for a shadow-free workspace. The adjustable High Light pulls out to give direct light in the needle area and the nine LEDs illuminate the bed area.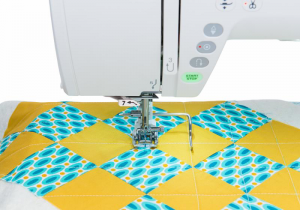 AcuFeed Flex™
The AcuFeed Flex Layered Fabric Feeding System is the best on the market. AcuFeed Flex perfectly guides your fabric from the top and bottom. Perfect for quilts, plaids and any sewing requiring precise control.
Numerous Needle Plates
Sewists are always striving for perfection in their sewing, even as they tackle various fabric types and sewing styles.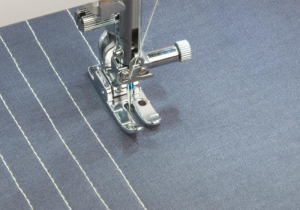 NEW Needle Plate & Foot
Accurate stitches and perfect starts on any type of fabric has gotten easier. This narrow gauge industrial foot and straight stitch plate are great for curves and precise topstitching.
Spacious Sewing Bed
The ample work area and ergonomic design allows for more quilt room. The MC9400 provides 11" to the right of the needle and 15 ½" of total work area. The needle area is sleek and trim so you can easily see as you work.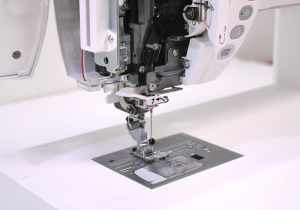 Superior Needle Threader
Threading could not be easier. Set your thread, push the lever, release and sew. The Superior Needle Threader's advanced design feeds the thread through the eye of the needle with precise accuracy every time.
9mm Zig Zag
Stitch up to 9mm wide stitches – the extra width makes all of your decorative stitches bolder, brighter, and more distinct.
Advanced Touchscreen
The advanced LCD touchscreen shows all of the information you need to sew with ease. Select new stitches and memorize your favorites for quick access.
Stitch Composer: Create Your Own Designs
Create your own stitch patterns from scratch! The program is easy to use, and transferring stitches to your machine is easy using the built-in USB port.
Stitches & Extras
Choose from 350 different stitches and 11 buttonholes. There is also an amazing array of 19 standard feet and accessories including Cloth Guide, Extra-Wide table, dust cover, and included Stitch Composer software.
Auto Pivot
When working on applique, the Auto-Pivot function allows for fast and accurate stitching, especially along corners and curves.
Memorized Piecing
The Memorized Quilt Seaming feature on the MC9400 memorizes the length of your seams. When sewing, the machine will stop exactly where it should for each quilt seam.
One Step™ Needle Plate Conversion
The One Step Plate Converter allows for no screws or tools. Simply push the lever to release the plate and snap a new one in place. The MC9400 comes with three standard needle plates: The Standard Zig Zag, Straight Stitch and the Professional ¼" Needle Plate.
Sale Ends Mon Mar 30, 2020
Tom's Sewing Centre
#102 – 8338 – 120th St
Surrey, BC
604-507-2841
info@tomssewing.com
Burnaby Sewing Centre
6190 Kingsway Ave
Burnaby, BC
604-437-1633