Upcoming Classes
Sale On Kimber Cuties Fall Table Topper Class!
For all those folks receiving Tom's Sewing Email Newsletter, save 50% when taking this class if you mention receiving the sale email! Not getting Tom's Sewing Email Newsletter? Then you are missing out on a variety of sales and discounts – like this class! Click this link to join – its easy.
Kimber Cuties Fall Table Topper: Lets create a festive look for fall. Love this table topper and how versatile it can be – just by changing the fabric combination. Go from cute and playful to something more classy, totally reflective of your decor. In class we will use both a sewing machine and Embroidery machine with the Edge Cutter making an appearance. Some techniques that we will be learning piecing by machine, in-the-hoop applique, re-hooping and centering. Don't have an Embroidery machine but would like to join the class, that's okay, you can add the applique with a sewing machine as well.
Date: Surrey Tues Sep 26 10:00am – 3:00pm
Fee: $37.50 + Pattern $41.99
Instructor: Lori Bandong
Skill Level: Must have Basic Quilting/ Embroidery Skills
Placemat Bag
This is a great little bag for travelling. You can make the strap as long as you want for shoulder or cross body, and it's just big enough to hold essentials, passport, money, camera. Or use it for a day of shopping or as a quick gift. It can be made to fit an iPad perfectly. Easy to make and you can use that fabric you can't bear to cut up.
Date: Surrey: Thurs Sep 21 10:00am – 1:00pm
Fee: $23
Instructor: Cindy Newton
Skill Level: Must have Basic Quilting Skills
Snail Tail Bag
Snails Trail is a delightful pattern from the 1920's composed of squares and triangles. A dramatic pattern using either two or four colors. HoopSisters has brought this pattern into the hoop to make ease of construction and quick piecing. The blocks will then be used to construct a bag with lots of zippered pockets.
Date: Surrey: Fri Sep 22 & Oct 6 10:00am –1:00pm
Fee: $45.00 + Pattern $56
Instructor: Kerri Sketchley & Carole Hando
Skill Level: must have basic sewing & embroidery skills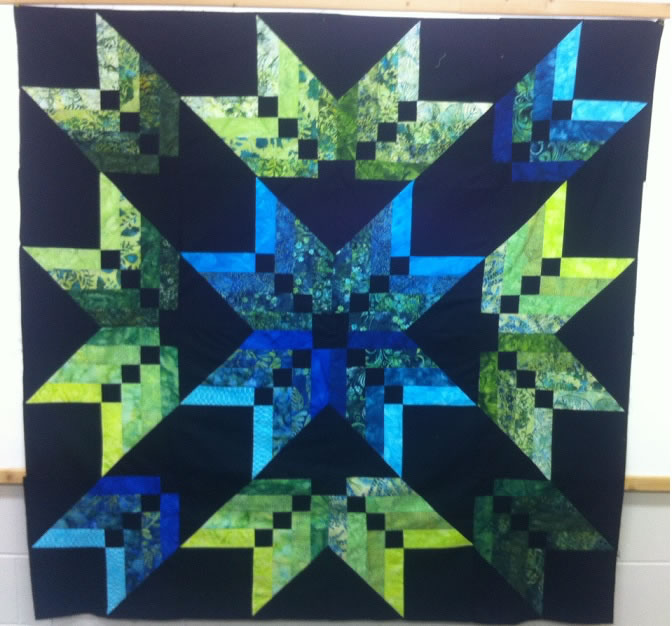 Jelly Roll Star
Just a jelly roll and some background and you create a stunning quilt top. It measures 63 inches by 63 inches and is very simple to sew. Great for the quilter who has already done the basics and is ready for the next step. The binding tool is the perfect ruler to make this pattern go together easily.
Date: Surrey: Sat Sep 23 11:00pm – 4:00pm Fee: $37.50
Instructor: Cindy Newton
Skill Level: Must have Basic Quilting Skills
Beginner's Log Cabin Quilt
Log Cabin Beginner: In this class students will create a Log Cabin lap sized quilt, 42 x 52. They will learn fabric selection and preparation, rotary cutting, piecing, block joining, basting the layers, as well as the basics of machine and hand quilting in the six sessions. Supply list available. This fun quilt looks much more complicated than it is and will teach you everything you need to know to move on to more advanced projects.
Date: Surrey Mon Sep 25, Oct 2, Oct 16, Oct 23, Oct 30, Nov 6 7:00pm – 9:00pm
Fee: $ 90
Instructor: Cindy Newton
Skill Level: Beginner
The Splendid Sampler
In this class we will learn patchwork , appliqué, foundation piecing, English paper piecing and hand embroidery. Each month we will sew 10 – 6.5" blocks leaning and expanding on techniques learned the previous month. This sampler quilt is a great way to expand on your quilting skills.
Date: Chilliwack: Tues Sep 26 Oct 24, Dec 5, Jan 23, Feb 27, Mar 27, Apr 24, May 22, Jun 26, July 24 10:00am – 2:00pm
Fee: $30/ month + Book $39.95
Instructor: Lynne Thiessen
Skill Level: Must have Basic Quilting Skills
Mini Professional Tote
The mini professional tote has 10 pockets including a zipper pocket to hold your tablet. On the outside there are two patch pockets, a zipper pocket and two pleated pockets to hold a bottle of water or sunglasses. Inside the tote there is another zipper pocket, a gathered pocket and two patch pockets. This tote is perfect for a busy, active woman for everyday use or travel.
Date: Chilliwack: Thurs Sep 28 & Oct 5 10:00am – 2:00pm
Fee: $60 + pattern $15.95
Teacher: Rinda Armstrong
Skill Level: Must have basic sewing skills
Hawaiian Bag
Join us to make this funky bag to take on vacation with you or just to add to your bag collection. This bag has inner and outer pockets and a flap with a magnet closure with an adjustable shoulder strap. I have even made a small change purse and glass holder to match my bag which can be a nice addition for a holiday get away! A pattern is available for these items if you wish to do them also.
Date: Surrey Sat Sep 30 10:00am –4:00pm
Fee: $ 45+ pattern $17.95 (Optional Additional Pattern for Eyeglass case and Change purse $14.95)
Instructor: Carole Hando
Skill Level: Must have Basic Quilting Skills
Fractured Star
Join Quiltworx Certified Instructor Julie Faulkner in making the Fractured Star a brand new pattern from Quiltworx which was designed as a beginner pattern to introduce quilters to foundation paper piecing. The project is fast, uses only one foundation block for the diamonds, employs simple cutting techniques, and is a fun way to jump into your first paper piecing project. It is meant to help those new to the process find confidence, understanding, and success. 80" x 80"
Date: Chilliwack: Sat Sep 30 10:00am – 4:00pm
Fee: $45 + Pattern $64.95
Instructor: Julie Faulkner (Quiltworx Certified Instructor)
Skill Level: Must have Basic Quilting Skills
*************************************
Tom's Sewing Centre
#102 – 8338 – 120th St
Surrey, BC
604-507-2841
Countryfolk Fabric
#5 – 45802 Luckakuck Way
Chilliwack, BC
604-824-5643