Upcoming Classes
Babylock Event
Donna Robinson from Babylock is coming in to show us all the new Babylock product that just released. She will have samples and fun demos and accessories to show you. Call to book your spot. Stay tuned for more details.
Date:
Surrey: Fri Oct 13 1:00pm – 3:00pm
Chilliwack: Sat Nov 4 10:00am – 3:00pm
Instructor: Donna Robinson – Babylock Sales Rep
Fee: N/C Please call to register
Skill Level: Beginner and Beyond
New! Kimberbell Kitchen Event!
This is a brand new Kimberbell event with new techniques. In this event you will learn: single-hoop embroidery on a ready-made article, multi hooping, piecing in the hoop, chenille, cutwork, how to embroider a quilted design and so much more. This is a great way to have fun and get to know machine embroidery. This event is suitable for the beginner all the way to the most advanced embroiderer, you can even test one of our embroidery machines if you don't have one. During the 2 days you will make and finish 6 embroidery projects all in the hoop. Included with your Kimberbell event, you'll receive an exclusive sewing bag completely filled with Kimberbell fabric, paper tape, ribbon, buttons, and more to make six amazing event projects. We'll even cut the stabilizer for you! You just need to come with your machine and a few basic supplies and be ready to have fun. We will even provide lunch.
Date:
Surrey: Thurs Oct 19 & Fri Oct 20 10:00am – 5:00pm each day or Mon Nov 13 & Tues Nov 14 10:00am – 5:00pm each day
Chilliwack: Thurs Nov 9 & Nov 10 10:00am – 5:00pm each day
Event Coordinator: Kerri Sketchley & Lori Bandong
Fee: $229
.

Sewing Machine Level 1
This class will cover the basics of learning to operate your machine. Threading your machine, winding your bobbin, tension top and bottom, straight stitch, stitch length dials, stitch width dials, needle up and down buttons, reverse, tension on zig zag, dropping feed dogs, needle positions, presser foot pressure, threads. For those of you who just purchased a sewing machine at Tom's or Countryfolk this would be lesson number 1.
Date:
Surrey: Wed Oct 11 10:00am – 11:30am
Chilliwack: Mon Oct 16 10:00am – 11:30am
Fee: $10 + Manual $15
Instructor: Liz Busby/ Diana Olson
Skill Level: Beginner
Serger Class Level 1
Do you have a serger, but don't understand threading and tensions? This course will teach you how to thread your machine, balance your tensions, lock that stitch at the end of your seam and sew: inside corners, outside corners, inside curves and outside curves. The class manual is $25.00 but, if you sign up for at least three classes at once, the manual is half price.
Date:
Surrey: Wed Oct 11 1:00pm – 4:00pm
Chilliwack: By Appointment
Fee: $20.00 + manual $25
Instructor: Liz Busby/ Diana Olson
Skill Level: Beginner
.

Walking Foot Quilting
How do you know where to quilt? Choosing patterns and planning what to do can be easier than you think. Using your walking foot is the easiest way to finish quilting some of those tops we all have. We will discuss threads and tips and tricks. Bring a quilt already basted with pins, thread or spray baste, and we will make a plan for it and get it underway.
Date: Surrey Mon Oct 16 12:00am – 4:00pm
Fee: $ 30
Instructor: Cindy Newton
Skill Level: Must have Basic Quilting Skills
.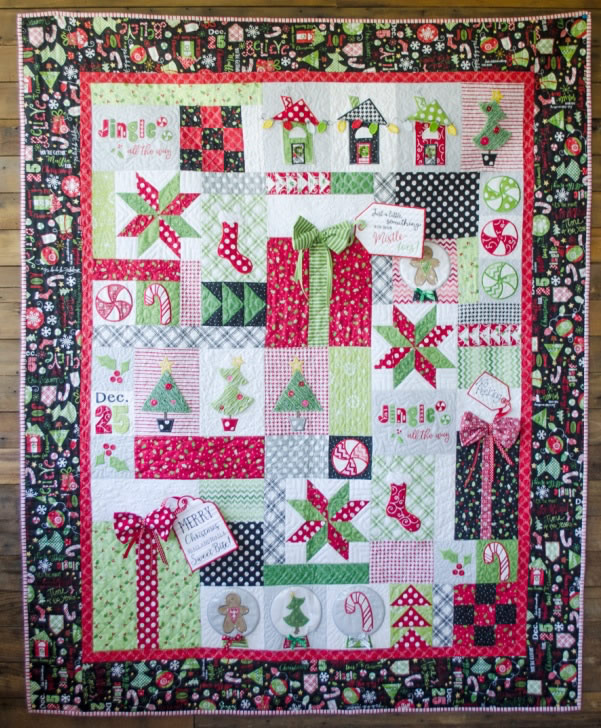 Kimberbell Jingle all the Way Quilt
"Jingle All The Way" is a patchwork quilt of Christmas surprises with more than a dozen machine embroidered designs and new techniques like chenille trees and traditional quilt blocks. The Embroidery CD includes all the applique designs in the quilt, plus 2 additional sizes for each design! Miniature fringe wreathes and Mylar lights adorn the row of houses and the vinyl applique makes the snow globes appear real. The festive flying geese strips are also pieced-in-hoop! We will be doing so many different techniques all on one quilt. This dimensional quilt has so many cool aspects to you will fall in love with it too! This class is a two day event where we will learn how to do the technique in class and then you will take that knowledge home to finish the rest of the blocks.
Date:
Surrey: Tues Oct 31 & Nov 21 10:00am – 3:00pm
Chilliwack: Mon Dec 4 & Thurs Dec 14 10:00am – 3:00pm
Fee: $75 + Pattern $99.99
Instructor: Lori Bandong
Skill Level: Must have Basic Quilting & Embroidery Skills
.
Cake Therapy and Beyond:
We have a whole new line up of fun classes and patterns this year for Cake Therapy. If you haven't already attended Cake Therapy, then it's time you did and find out what you are missing. All we are going to tell you is it takes place once a month at both stores and there are NO FEES for these sessions, but there will be cake! And of course laughter, friends, coffee and tea! What quilter doesn't need a little "Therapy", so sign up today to reserve your spot.
Chilliwack:
Wed Sep 6, Oct 4, Nov 1, Dec 6 – 1:00pm – 2:00pm
Surrey:
Thurs Sep 21 – 2:00pm – 3:00pm or Sat Sep 23 – 9:30am – 10:30am
Thurs. Oct 26 – 2:00pm – 3:00pm or Sat Oct 28 – 9:30am – 10:30am
Thurs Nov 23 – 2:00pm – 3:00pm or Sat Nov 25 – 9:30am – 10:30am
Thurs Dec 14 – 2:00pm – 3:00pm or Sat Dec 16 – 9:30am – 10:30am
.
The Strip Club
No we haven't gone completely crazy! But you know the saying "girls just gotta have fun!" What we are going to do is provide you with yet another way to create exciting quilts using either precut strips or strips you can cut from your stash. We will have some great ideas on how you can work with these strips in a variety of projects. This club takes place once a month. There will be lots of fun along with goodies, coffee and tea! Aren't you just a bit curious?
Date:
Surrey: Thursday: Sep 14, Oct 12, Nov 9, Dec 7 10:00am – 11:00am
Chilliwack: Wed: Sep 20, Oct 18, Nov 15, Dec 20 1:00pm – 2:00pm
Fee: No Charge
Instructor: Cindy Newton/ Diana Olson
Skill Level: Beginner and Beyond
.
"Quilt Til You Wilt"
These evenings continue to be very popular! Come in for an evening of "Fun and Finishing". Bring in those UFOs and the staff will guide you in finishing them. It's always a lot more fun to work with other quilters. We'll have coffee, tea, and hot chocolate on hand. You can bring your own dinner. Come to one or come to them all. Bring along any project that you want to work on. Call us now to reserve your spot as these sessions fill very quickly.
Date:
Surrey: Fri Sep 15, Oct 13, Nov 17, Dec 15 5:00pm – 11:00pm
Fee: $15 (Dinner NOT provided)
———————-
Tom's Sewing Centre
#102 – 8338 – 120th St
Surrey, BC
604-507-2841
Countryfolk Fabric
#5 – 45802 Luckakuck Way
Chilliwack, BC
604-824-5643