NEW Classes
Due to popular demand we have added more sessions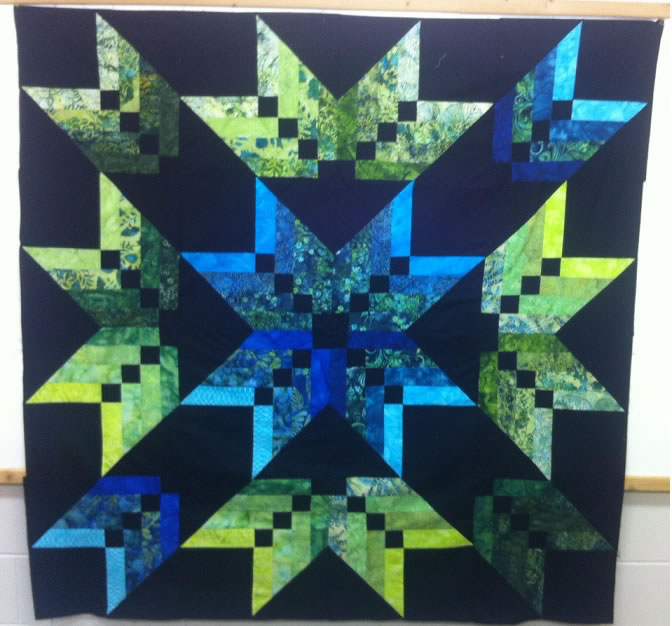 Jelly Roll Star
Just a jelly roll and some background and you create a stunning quilt top. It measures 63 inches by 63 inches and is very simple to sew. Great for the quilter who has already done the basics and is ready for the next step. The binding tool is the perfect ruler to make this pattern go together easily.
Date: Surrey: Fri Nov 10 10:00am – 3:00pm or Sat Nov 11 10:00am – 3:00pm
Fee: $37.50
Instructor: Cindy Newton
Skill Level: Must have Basic Quilting Skills
.
Getting to Know your Edge Cutter
This is a part 1 of a three part class where we will get to know the Edge cutter. In this 1st class we will cover the following, Know the parts of the machine, care of your mats, prepping your fabric, How to get started with the Simple Cut program, and cutting. This class is required before taking class 2 and 3 (coming next semester).
Date: Surrey: Thurs Nov 23 10:00am – 2:00pm
Fee: $15
Instructor: Lori Bandong
Skill Level: Must have Basic Quilting & Embroidery Skills
.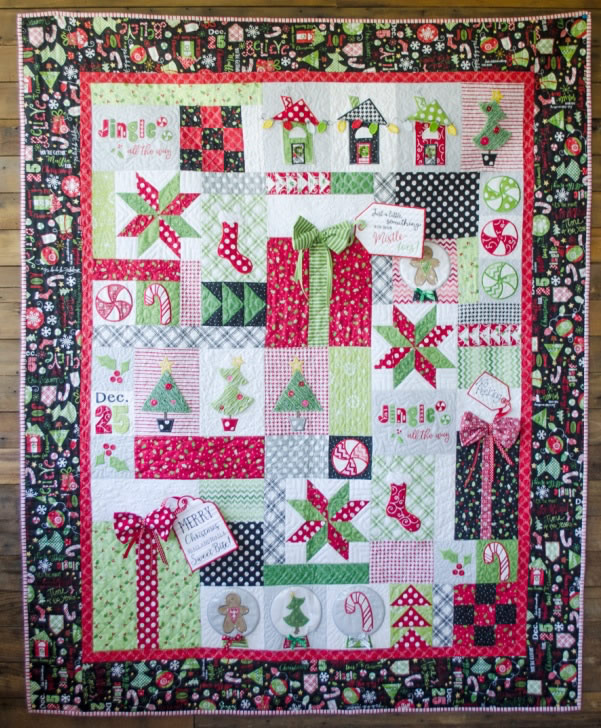 Kimberbell Jingle all the Way Quilt
"Jingle All The Way" is a patchwork quilt of Christmas surprises with more than a dozen machine embroidered designs and new techniques like chenille trees and traditional quilt blocks. The Embroidery CD includes all the applique designs in the quilt, plus 2 additional sizes for each design! Miniature fringe wreathes and Mylar lights adorn the row of houses and the vinyl applique makes the snow globes appear real. The festive flying geese strips are also pieced-in-hoop! We will be doing so many different techniques all on one quilt. This dimensional quilt has so many cool aspects to you will fall in love with it too! This class is a two day event where we will learn how to do the technique in class and then you will take that knowledge home to finish the rest of the blocks.
Date: Surrey: Tues Oct 31 & Nov 21 10:00am – 3:00pm or Fri Dec 8 10:00am – 3:00pm & Thurs Dec 21 10:00am – 3:00pm
Chilliwack: Mon Dec 4 & Thurs Dec 14 10:00am – 3:00pm
Fee: $75 + Pattern $99.95
Instructor: Lori Bandong
Skill Level: Must have Basic Quilting & Embroidery Skills
.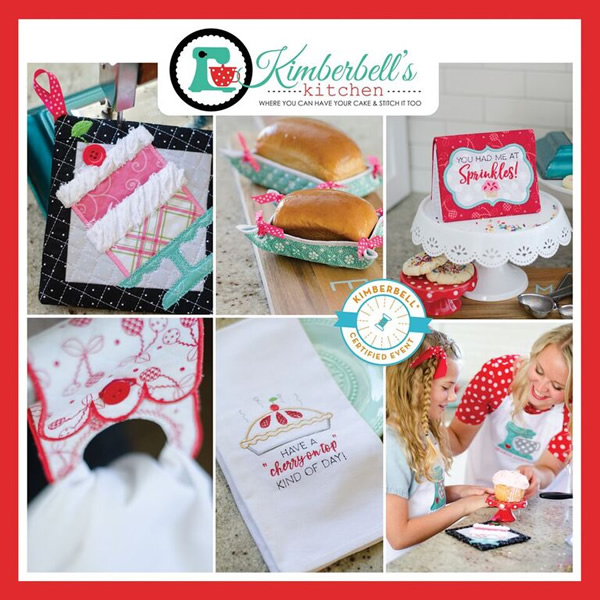 New! Kimberbell Kitchen Event!
This is a brand new Kimberbell event with new techniques. In this event you will learn: single-hoop embroidery on a ready-made article, multi hooping, piecing in the hoop, chenille, cutwork, how to embroider a quilted design and so much more. This is a great way to have fun and get to know machine embroidery. This event is suitable for the beginner all the way to the most advanced embroiderer, you can even test one of our embroidery machines if you don't have one. During the 2 days you will make and finish 6 embroidery projects all in the hoop. Included with your Kimberbell event, you'll receive an exclusive sewing bag completely filled with Kimberbell fabric, paper tape, ribbon, buttons, and more to make six amazing event projects. We'll even cut the stabilizer for you! You just need to come with your machine and a few basic supplies and be ready to have fun. We will even provide lunch.
Date: Surrey: Thurs Oct 19 & Fri Oct 20 10:00am – 5:00pm each day or Mon Nov 13 & Tues Nov 14 10:00am – 5:00pm each day
Chilliwack: Thurs Nov 9 & Nov 10 10:00am – 5:00pm each day
Event Coordinator: Kerri Sketchley & Lori Bandong
Fee: $229
——————————————–
Tom's Sewing Centre
#102 – 8338 – 120th St
Surrey, BC
604-507-2841
Countryfolk Fabric
#5 – 45802 Luckakuck Way
Chilliwack, BC
604-824-5643