Upcoming Classes
Twinkle Star
Join Quiltworx Certified Instructor Julie Faulkner in making the Twinkle Star which was designed by Judy and Bradley Niemeyer for paper piecing. The pattern includes three distinct groups to create a 38" x 38" quilt. A lone star centre makes up Group A, a series of 7-1/2" blocks nestled in each corner of the lone star makes Group B, and a border squares off the quilt as Group C. The pattern uses basic paper piecing techniques that can be applied to many of our lone star projects. This is a great introductory pattern for learning how our lone star quilts are made in a small project that can be completed very quickly. This is a two day class.
Date: Surrey – Sat Dec 2, 10:00am – 4:00pm & Sat Dec 16 11:00am – 5:00pm
Fee: $90 + Pattern $39.95
Instructor: Julie Faulkner (Quiltworx Certified Instructor)
Skill Level: Must have Basic Quilting Skills
Denim EMB Quilt
Looking for ways to use up all those jeans that have seen better days? Then turn them into this adorable quilt while working on your EMB skills. Lots of different EMB designs make each block unique and adds a wow to the quilt. Don't let the lack of old jeans in you home discourage you from taking the class. I am sure if you ask around, there will be plenty of people looking to get rid of old jeans…. denim has already been showing up on my desk and I haven't even asked for any yet – LOL. Bring in your denim and we can swap pieces in class too.
Date: Surrey – Tues Dec 5, 10:00am – 4:00pm
Fee: $45 + Pattern $25.99
Instructor: Lori Bandong
Skill Level: Must have Basic Quilting/ Embroidery Skills
Sailor's Delight
Template free piecing makes this one a delight to put together. You can use precut strips or cut your own. Striking results in a hurry. Any color family can work or choose a value-based palette. Contrast to the centre strip will make the star stand out.
Date: Surrey – Sat Dec 9, 10:00am – 4:00pm
Fee: $45
Instructor: Cindy Newton
Skill Level: Must have basic Quilting Skills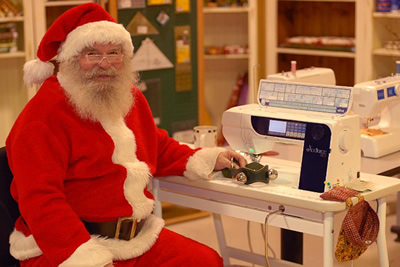 Customer Appreciation Day
Surrey Store
Friday – Dec 1, 2017 at Tom's Sewing Centre
Pictures with Santa 1pm – 5pm
Free Class – How to make a Stocking 10am – 12pm
Stocking Making in the Classroom 10am – 5pm
Sew and Tell – 1pm – 2pm
Fun, Treats and Great Sales – 9:30am – 5:30pm‌
Customer Appreciation Day
Chilliwack Store
Friday – Dec 1, 2017 at Countryfolk
Stocking Making in the Classroom 10am – 4pm
Fun, Treats and Great Sales – 9:30am – 5:30pm
—————————–
Tom's Sewing Centre
#102 – 8338 – 120th St
Surrey, BC
604-507-2841
Countryfolk Fabric
#5 – 45802 Luckakuck Way
Chilliwack, BC
604-824-5643