For Week 4, Unbelievable Savings on Select Janome Sergers
Janome is not going to put in a booth at the Creativ Festival in Abbotsford this year. We have a sales target to make by March 31, so we are going to start now and each week offer unbelievable prices on a selected Janome machines. We both win, you get an awesome deal on a sewing machine, serger or embroidery machine and we make our sales targets for the year.
For Week 4 of our sale, we're offering incredible savings on select Janome Sergers. Prices on these machines are so low, we can't show them on our web site. So, don't delay, contact Tom's Sewing today! (604-507-2841 or info@tomssewing.com)
JANOME PRO 4DX
Pro 4DX is a powerhouse serger from Janome which makes sewing and serging a pleasure.
It comes with differential feed system which gets rid of the fabric stretching, puckering or bunching up around the edges, especially for heavier fabric, knits and woven cloth.
There is a helpful colour coded reference for two, three or four thread serging. The rolled hem feature on this machine will make your life so much easier. No more hassles of switching the needle plates or presser foot.
The body is designed to allow better reach along the looper below. It handles several layers of fabric efficiently and runs on minimal maintenance.
Whether you are working on narrow, three-thread hems or hemming those delicate scarves, napkins or skirts – this serger will meet all your needs.
Janome Pro 4DX Features:
• Simple presser feet snap-on arrangement. No more screwdrivers!
• Presser feet with adjustable pressure to allow multiple layer or thicker fabric serging
• Color-coded reference chart for threads for easy readability
• Ergonomic skeleton-type design to allow better reach around the lower looper
• Twin feed dogs, with differential feed with flexible feeding options through dial control. The feed ratio could vary from ¼ to 2¼
• Standard needles with needle guards on both back and front
• Rolled hem feature to allow easy switch to hemming and quilting work
• Peak working speeds of 1300 stitches per minute
• Dials to electronically control speed, and cutting width of the thread (with the thread-cutting mechanism towed away just below the plate).
• Extra box for waste chips and sewing/ serging accessories and stand for pin-spools
• Overlock options to convert to two, three or four thread serging
• Sturdy metal body with composite handle as part of the machine for portability
• Dial laid in to adjust thread tension, with a tension release feature as well.
• Retreating knife for upper thread
• Variable seam width choice – Narrow (0.08''), Regular (0.13'') and Wide (0.22'') Variable seam length options from 0.04'' to 0.2''
JANOME 4DLB
The Four-DLB gives you a wide range of serging features in a compact machine. Its sturdy design and precise Janome stitch mechanism ensures beautiful 3/4 thread operation. The Four-DLB allows you to cut, seam and finish all in one step for a professional result every time – and at up to 1,300 stitches per minute you'll get your work done fast.
Janome 4DLB Features:
3 and 4 Thread Convertible
Easy Lay-in Tension Dials
Threading Chart
Color Coded Thread Guides
Tension Release Lever
Easily Accessible Lower Looper
Quick Change Rolled Hem
Lower Looper Pretension Setting Slider
Easily Retractable Upper Knife
Adjustable Foot Pressure
Snap-on Presser Feet
Adjustable Stitch Length 1mm to 4mm
Differential Feed Ratio 0.5mm to 2.25mm
Adjustable Cutting Width 3.1mm to 7.3mm
Maximum Speed: 1,300 SPM
JANOME COVERPRO 2000CPX
A coverstitch machine is essential for the sewist looking to achieve a professional finish. The CoverPro® 2000CPX's innovative design is based on the marriage of an industrial-style cover hem machine and a convenient home machine. The resulting union has produced a high-speed, long arm, heavy-duty cover hem machine that looks and operates like a sewing machine. With a wide trip cover hem stitch, exclusive free arm configuration and Tension Level Control (TLC). The 2000CPX is the most advanced Cover Hem machine available.
Janome CoverPro 2000CPX Features:
Free Arm
1, 2 or 3 needle
Quick reference guide for stitch selection
1 needle, 2 thread chain stitch
2 needle, 3 thread cover stitch
3 needle, 4 thread triple cover stitch
Vertical needle drop
Tension release device
Foot pressure adjustment
Differential feed ratio 0.5 to 2.25
Stitch length 1 to 4mm
Stitch width with two needles: 6mm (standard), 3mm (narrow)
Stitch width with three needles: 6mm (3mm + 3mm)
Speeds up to 1,000 spm
Foot pressure adjustment with guide lines
Extra large bed space 4" x 5.5"
Tension Level Control (TLC)
LED Light
4 cones of thread included
Dust cover included
JANOME AT2000 SERGER
with
JET AIR THREADING
One-Push Air Threading System
Tedious threading of upper and lower loopers are a thing of the past. Simply insert thread into the specially designed ports and your thread is transported to where it needs to be with an easy push of a lever.
8-Piece Feed Dog System
With strategically placed feed dogs in eight locations, the AT2000D will easily grab and feed your fabric. From slinky knits to denim, the AT2000D will meet the challenges of your sewing projects.
Built-in One-step Converter
Changing from a 3-thread to a 2-thread application has never been easier! Simply place your finger under the converter and flip it into position. Now, you're ready to sew delicate rolled hems or reduce the bulk in your overlock edge.
Built-in Needle Threader
A Janome first! With a built-in needle threader, manually threading your serger needles is a thing of the past. One unit provides easy threading of both the right and left position needles.
Safety First
There are three micro-switches for added safety to the sewist. The AirThread 2000D will only be able to serge if all three switches (located in the side cover, looper cover and the Presser foot bar) are engaged.
Integrated Adjustable Dials
The Stitch Length Adjustment and Differential Feed Adjustment have been integrated into 1 dual function dial. Easily grip the textured dials to change your stitch length any time (even while sewing) to get stitches between 1.0-5.0mm. The unique differential feed device prevents fabrics from puckering, lets you adjust the stretchiness of our stitching as you sew, and enables you add ready-to-wear effects to your sewing. Adjustable from 0.5-2.0mm.
Fine Adjustments
Easily make adjustments to cutting width, access the upper knife release knob and switch to rolled hemming in one easy slide of the stitch finger lever. All of these adjustments are now located on the right side of the sewing bed for ease of operation.
Speed, Strength, Stability
The main shaft is newly redesign in the AirThread 2000D. Two ball bearings provide low torque, giving you greater stability at higher serging speeds and the benefit of added durability.
Bed Size
Serge through bigger projects with the wide flat work space. The AirThread 2000D offers ample sewing area with a sewing bed of 4.65" wide in front of the serging needle and 5.59" wide behind the needle. The bed is 9.67" deep as well.
Easy Lay-in Threading
With improved slide-and-go thread guides, quickly and easily lay the thread in place. The slide-and-go thread guides take the guess work out of threading the upper tension discs – preventing errors in threading the machine correctly.
Foot Pressure
Easily adjust the foot pressure to accommodate sewing on a variety of fabrics, or to accommodate optional accessory feet.
Serger Stitches
JANOME AT2000 SERGER STITCH TYPES
4 Thread Overlock Safety Stitch
The stitch employs both needles and stretches without breaking. It is excellent for sewing knit & loose fitting woven garments.
3 Thread Overlock Standard
Popular for garment construction on medium to heavyweight fabric. Generally used as an edge finish on single layers of fabric.
3 Thread Overlock Narrow
Commonly used for garment construction and lingerie with light to medium weight fabrics.
2 Thread Overcast
The needle and lower looper threads form an edge finish that is lightweight and flat. Often used as an open seam edge on lightweight fabrics.
3 Thread Rolled Hem
Excellent for hemming on medium to lightweight single layer fabrics, on scarves, napkins and ruffles. It can also be used to create decorative pintucks.
2 Thread Rolled Hem
Since there are only 2 threads, the result is lighter and finer than the 3 thread version. This is suitable for fabrics like chiffon and also used for bridal veil edging.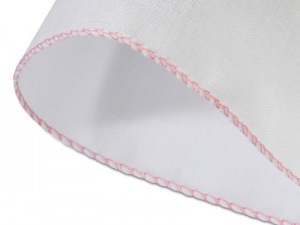 Picot Edge
Hem finish with a slightly scalloped appearance, used to hem sheers and lightweight delicate fabrics. Works well on chiffon, georgette and fine knits.
Lettuce Leaf Edge
3 thread rolled hem using the differential feed. A popular decorative wavy edging on stretch fabric. Can be used for more dramatic curves if used with a nylon cord. The differential feed controls the speed of fabric which can be used to either create more wave or to ease stretch and puckers.
Flatlock 3 & 2 Thread
3 thread is perfect for joining fleece and knit fabrics. Can also be used as a decorative accent with heavier threads to resemble the top cover stitch seen on sportswear. 2 thread is ideal for joining lace to silk on lingerie. The reverse side looks like a ladder stitch.
Sale Ends Monday, Mar. 30, 2020
Tom's Sewing Centre
#102 – 8338 – 120th St
Surrey, BC
604-507-2841
Burnaby Sewing Centre
6190 Kingsway Ave
Burnaby, BC
604-437-1633