Buy Now and Save 40% Plus, Get March and April Bonuses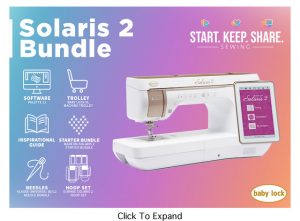 The Baby Lock Solaris 2 Bundle includes the Solaris 2 sewing machine which boasts a host of revolutionary features that make simple work of even the toughest sewing challenges. For example, it features the built-in IQ Visionary™ projector which displays stitches and embroidery designs directly on the fabric. Resize, move or make other adjustments with the touch of a wireless stylus – all while seeing it happen in real time before you sew it out. Perfect placement is achieved every time.
Other Baby Lock Solaris 2 sewing and embroidery machine features include:
IQ Visionary™ Projector
10-5/8″ x 16″ and 10-5/8″ x 10-5/8″ Hoop Sizes
IQ Intuition™ Monitoring App
IQ™ Designer
End Point Setting for Sewing
865 Built-In Designs
For more information, click on the link: https://www.babylock.com/embroidery-project-perfected
Also included in the Baby Lock Solaris 2 Bundle are the following extras:
Solaris Durkee Hoop Set
Love of Sewing Membership
Solaris 2 Roller Tote
Solaris 2 Inspiration Guide
Palette 11 Software
Madeira Thread Starter Set
Needle Bundle
Sale Ends March 26, 2021
Durkee EZ Frame Hoops
EZ Frames are a simple, yet effective, system for hooping otherwise difficult to hoop items. Simply apply sticky backing to the underside of the frame with the sticky side up. The adhesive on the backing holds your project in place while the machine is stitching.
Click the link for a Demo of Durkee EZ Frame: https://www.youtube.com/watch?v=tHTxs2uiJA4
Love of Sewing Membership
With the Love of Sewing Membership, owners get four years of unlimited access to sewing tutorials, comprehensive service, and unique savings opportunities. At Baby Lock, we celebrate the Love of Sewing, a love of our customers and sewing as a lifestyle.
The Love of Knowledge Center gives owners unlimited access to hundreds of on-line SEWED sewing videos led by Baby Lock experts. The videos cover everything from machine set up to specialty features. There are also project tutorials to help you learn new techniques.
With the service program, you get four years of comprehensive service, support and maintenance for your machine. You never have to worry because your machine is in the hands of a Baby Lock certified technician. Plus, your repair, parts and labor charges are covered.
You'll also enjoy product offers and exclusive coupons with unique savings opportunities.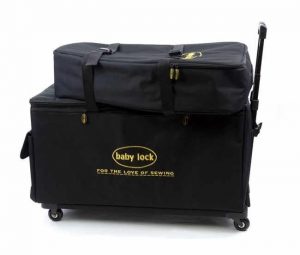 Solaris 2 Roller Tote
Safely take your Baby lock Machine to class and on the road in this durable trolley bag. Adjust the handle to a comfortable height and pull the easy-rolling trolley wherever you go. Fits your machine's associated accessories and hoops — including the Solaris 10-5/8 x 16″ hoop! Made with reinforced padding and 600 Denier Polyester fabric. Not intended for air travel.
Dimensions: 29″L x 15″W x 16″H
Embroidery Arm Bag Only Dimensions: 26″L x 24″W x 6.5″H
Solaris 2 Inspiration Guide
Baby Lock Inspirational Guides help you explore all the techniques your sewing machine and embroidery machine. Get the most out of your Baby Lock Solaris with an Inspirational Guide designed to navigate you through the tips and techniques and the functions your machine has to offer.
Palette 11 Software
Using this advanced embroidery digitizing software, you'll create and edit embroidery designs easier than ever before. Baby Lock Palette 11 software takes your embroidery machine's capabilities to the next level. You'll enjoy improved functionality that makes every step of digitizing easier. All-new editing features help you perfect your embroidery projects.
EASY TO USE:
• Software Key gives you hassle-free access to Palette 11 capabilities
• Simple navigation menu gives you quick access to your settings
• Connect Baby Lock multi-needle machines to finish multiple projects more efficiently
• WLAN pattern Import/Export (for machines with this feature)
STITCH OPTIONS:
• 54 built-in Decorative Fill patterns
• Echo quilting
• Programmable Stitch Creator allows you to modify any of the 54 patterns to create new decorative fill stitch patterns, or create your own fill patterns
• Converts fill inclination lines into curved lines
• Flexible Spiral Stitch moves the radius point to create off-centered spirals
• More variety and flexibility of fill decoration
ADVANCED EDITING AND DIGITIZING TOOLS:
• Create decorative fill patterns
• Modify fill patterns
• More flexibility modifying patterns
• Large split pattern with embroidery positioning sticker (for machines with this feature)
• Inclination lines convert to a curve by adding additional points
• Large font mapping for imported embroidery data
• Lifelike Photo Stitch with increased colour control and contrast
SYSTEM REQUIREMENTS:
• IBM PC or compatible computer with Pentium IV or higher
• 1 GHz or higher Processor
• Windows® 7, 8.1, 10 operating system (32 or 64 bit)
• 1GB RAM or more is recommended
• 600 MB Hard Drive Space
• 2 or more USB Ports
• XGA Monitor (1024 x 768), 16 bit color or higher
• Mouse or compatible pointing device
• Internet Access
Did you know that Baby Lock offers FREE webinars to help you open up new creative possibilities? Check out these great webinars and learn more about all that Palette 11 can do for your embroidery projects! Watch FREE Palette 11 webinars.
Madeira Starter Bundle
The Madeira Starter Bundle Includes:
Madeira Quilt Box (40 x 400m, 20 x 1000m, 3 x Monofil)
Madeira Polyester Filament 5 x 1000m
Stabilizer

Cut Away Super Strong
Tear Away Cotton Soft
Avalon Wash Away Film

Seam Ripper
Gold Plated Embroidery Scissors
Hand Gauge
Solaris 2 Features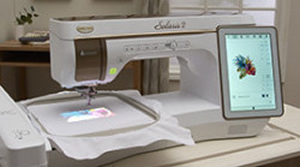 PRECISE EMBROIDERY PLACEMENT
While in embroidery mode, choose from three different projection backgrounds (black, grey, or white) based on fabric choices to see your design clearly. The needle drop laser is displayed in a point or a "T" pattern for an even more precise placement.
PERFECT SEWING PLACEMENT
The Solaris 2 uses a variety of guideline markers and grids for perfect placement. While in sewing mode, switch between three different laser colors (red, green and white) for better visibility based on fabric choices. Single, double, angles and grid lines are ideal for piecing precision, stitch adjustment and aligning starting points and very wide stitches.
10-5/8″ X 16″ AND 10-5/8″ X 10-5/8″ HOOP SIZES
The 10-5/8″ x 16″ hoop is Baby Lock's largest hoop yet. It makes it possible to stitch out your biggest embroidery designs with fewer rehoopings. The 10-5/8" x 10-5/8" hoop size is perfect for quilt blocks
IQ INTUITION™ MONITORING APP
Keep track of your project's progress with this convenient feature that alerts your phone when the bobbin needs to be changed, if a thread breaks, if a thread needs to be changed and when stitching is done. (Free smart phone app for download is required).
IQ™ DESIGNER AND IQ INTUITION™ POSITIONING APP
Create your own designs and quilt motifs with ease. Draw directly on the screen, scan in your favorite artwork, upload an existing file to the Solaris 2 using a USB drive, or wirelessly send designs to your machine from your smart phone using the IQ Intuition Positioning App. Your art will be instantly converted into an embroidery pattern (free smartphone app for download is required)
AUTO SPLIT OF LARGE QUILT BORDERS
Create beautiful quilt borders and sashing with unmatched precision using the 30 patterns and two shapes (rectangular or hexagonal) available. Simply enter a few measurements, select a hoop, and the Solaris 2 does the necessary calculations for you. The on-screen instructions guide you every step of the way for quilts measuring up to 118" x 118". You can even repeat or skip sections, if necessary.
10.1″ CAPACITIVE TOUCHSCREEN
You'll have total control over every single aspect of your stitches, embroidery designs, placement, colors and more on a large touchscreen with slide scrolling menus and pinch in/out zooming.
END POINT SETTING FOR SEWING
Achieve perfect stitches using the built-in camera and end point sewing stickers. Simply place the sticker where you want your stitch to the end, activate the endpoint sewing feature and sew with confidence!
ADD QUILTING TO EMBROIDERY PATTERNS
Add stippling, echo quilting, or any of the 42 Decorative Fill patterns from IQ™ Designer around a selected design. For advanced quilting options, use IQ™ Designer to add fills inside your designs.
CAMERA DETECTING BUTTONHOLE FOOT
The Solaris' camera automatically senses pre-set points on the buttonhole foot, providing an accurate, better sew out. The two-piece foot secures the fabric, preventing slippage.
13″ TO THE RIGHT OF THE NEEDLE
With an unprecedented 13″ to the right of the needle for an impressive 65 square inches of workspace, Solaris 2 gives you plenty of room to comfortably work on larger projects and full-size quilts.
NEEDLE PLATE WITH PUSH BUTTON RELEASE
Switching out plates has never been this easy – just simply touch a button. No tools are needed! The needle plate also features a variety of new markings for better placement, alignment and accuracy.
BUILT-IN DESIGNS, BUILT-IN FONTS, DECORATIVE FILLS, UTILITY STITCHES
Make every project uniquely yours with a huge variety of built-in designs, decorative stitches, decorative fills and utility stitches.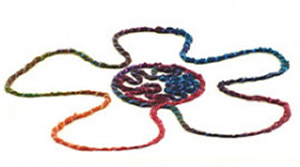 EMBROIDERY COUCHING
Use the included couching embroidery foot to easily add dimension and texture to your projects with decorative yarns and one of the 40 new designs.
MAGNETIC EMBROIDERY HOOP 7″ X 14″ (Optional Extra, Add On)
The Magnetic Frame is the perfect accessory for embroidering on the Baby Lock Solaris and Solaris 2. This frame works great for thin fabric like linen that you don't want to crush between a hoop set. The magnets make it super easy to reposition your fabric for multiple hoopings, making it a must have for quilting or large embroidery designs!
Don't miss out on the incredible savings of this amazing bundle! Call or email Tom's Sewing or Countryfolk Fabric today.

Tom's Sewing Centre
Agents for: Janome, Babylock, Elna & Singer Sewing Machines and Sergers
Open Monday – Friday, 9:30am – 5:30pm & Saturday, 9:30am – 5:00pm
#102 – 8338 – 120th St
Surrey, BC
604-507-2841
Countryfolk Fabric
Agents for: Babylock & Elna Sewing Machines and Sergers
New Hours Open Monday, Wednesday, Friday & Saturday, 9:30am – 5:00pm
#5 – 45802 Luckakuck Way
Chilliwack, BC
604-824-5643
Burnaby Sewing Centre
Agents for: Janome & Elna Sewing Machines and Sergers
Open Tuesday, Thursday & Saturday, 10:00am – 5:00pm
6190 Kingsway Ave
Burnaby, BC
604-437-1633
Email: info@tomssewing.com
Facebook: https://www.facebook.com/tomssewingcentre/
Website: https://www.tomssewing.com