Sign up for a zoom class! You can still enjoy being in a social setting, learn new techniques and have some fun.
Boo Wall Hanging, by Sweet Pea
This Halloween themed "BOO" wall hanging can be made in the 5×7, 6×10 or 7×12 size hoop. This is an ITH (in the hoop) machine embroidery design. There are three different blocks included in the wall hanger. The blocks are linked together using a ribbon or string.They are quick and easy to sew, making them perfect for gifts or for your own table.
Date via Zoom: Saturday, Oct. 3 at 10:00am – 12:00pm
Fee: $15 + Pattern Cost, $13.50 (no discounts on Pattern)
Instructor: Lori Bandong
Skill Level: Must have Basic Embroidery Skills
Country Scatter Rugs
Simplicity can have a dramatic effect as you take an old concept and add your contemporary flare. Country Scatter Rugs make the perfect Christmas Gifts. Make a theme rug for Christmas with red and Christmas Accent colors. Using this technique, you can make place mats or bowls. It's simple and easy to learn even for a beginner. In this class you will learn tips and tricks to making your finished project look fabulous.
Dates via Zoom: Monday, Oct. 12 at 10:00am – 12:00pm & Oct. 26 at 10:00am – 11:00am
Fee: $23
Instructors: Charlene Neufeld (New Teacher from Chilliwack)
Skill Level: Beginner and Beyond
Wonky 9 Patch
Finally a pattern just made for those wonderful fat quarters that you've been collecting. It can be made in brights or with any colour theme you want. Easy and fun.
Date via Zoom: Friday, Oct 16 at 10:00am – 2:00pm
Fee: $ 30
Instructor: Cindy Newton
Skill Level: Must have Basic Quilting Skills
Kimberbell Winter Wonderland Event
Discover a Winter Wonderland at Kimberbell's two-day machine embroidery event! The Event Project Kits include everything needed to make five elegant holiday projects: Winter Cardinal Ornament, Dream Skate Felt Stocking, Dear Santa Bench Buddy, Mini & Merry Lace Ornaments, December Days Advent Calendar.
Designs are stitched in 5×7 and 6×10 hoops with additional sizes available. From shiny Embroidery Leather to twinkling fairy lights, Kimberbell's Winter Wonderland is filled with magic and memories!
Class Dates via Zoom: Monday, Nov. 02, Tuesday, Nov. 03, Wednesday, Nov. 04 & Thursday, Nov. 05, at 10:00am – 12:00pm
or
Monday, Nov. 02, Monday, Nov. 09, Monday, Nov. 16, Monday, Nov. 23, at 6:30pm – 8:30pm
Event Coordinator: Kerri Sketchley & Lori Bandong
Fee: Regular Price: $249 / Early Bird Price: $199 (If signed up by Oct. 10th)
New! Kimberbell Social Embroidery Club
Do you love to embroider? Do you love to share your work? Do you love to learn new techniques? We will be holding an online embroidery club and demo a new technique each Monday,th. Patterns will be loaded onto USB sticks and available to pick up after the club. We will not be sewing during this club, but we will be demoing and sharing ideas.
The club projects will be based on Kimberbell designs that are clever, whimsical and a fun way to learn different embroidery techniques. Even if you have never done machine embroidery before, you will enjoy this club. Kimberbell designs are so cute and have amazing instructions; this club will not disappoint you. .
Join our show and tell, email a picture of your project to dblori@telus.net and put Kimberbell Club in the subject.
Dates by Zoom: Thursday, Sep 17, Oct 15, Nov. 19, Dec. 10 at 10:00am – 11:00pm
Fee: There are NO FEES to attend this club
Instructor: Kerri Sketchley/ Lori Bandong / Lynne Thiessen
Skill Level: Beginner to Advance Embroidery Skills
Tied up with a Bow
The minute I saw this pattern, I knew I had to make it. It is the cutest placemat ever. Mine is pink and blue like the picture in the pattern, but I also want to make them in Christmas colours. The bow is perfect for that. It is done with fusible web applique and goes together easily. A rayon satin stitch finishes the project nicely and gives it a nice shine.
Date via Zoom: Saturday, Sep. 12 at 10:00am – 1:00pm
Fee: $ 23 + Pattern Cost $16.95
Instructor: Cindy Newton
Skill Level: Must have Basic Quilting Skills
Cake Therapy and Beyond
We have a new idea for Cake Therapy. We're going to try it as a Facebook session. If you haven't already attended Cake Therapy, then it's time you did and find out what you are missing. Whether you are a beginner or advanced quilter, you'll have a lot of fun learning and sharing different techniques. There are NO FEES for these sessions, but there will be some great deal if you want to make these projects at home. Usually, we provide the cake when thses sessions were hosted at the store however, due to current circumstances you will need to provide your own cake (or treat of choice) while you watch.
Join our "Show and Tell" segment by sending pictures of your project to dblori@telus.net
Facebook Event: Thursday, Sep 24, Thursday, Oct 22, Thursday, Nov. 26, Thursday, Dec 17 Beginning at 10am
Ruler Quilting – Essence of Tradition
This is the Ultimate Quilting with Templates Class. Get inspired to finish all your quilt tops at home with the "Essence of Tradition Design Club." You can sign up to pick up your package each month or add the class for additional help. In class we will ruler quilt 1 block of a quilt each month. If you choose to do the whole year you will have a full quilt at the end of the class.
The full year class includes: 13 Traditional Block Patterns, 50+ Quilting Designs (4 per block),13 Westalee Design Templates (available in Low shank, High shank or Long Arm Thicknesses), 13 Instructional Videos, Notebook with Design Tools & Patterns. This package is valued at $850. Participants must sign up.
Dates via Zoom: Friday, Oct 09, Oct 30, Nov. 27, Dec 18 at 10:00am – 1:00pm
Fee: $23/ Month (must sign up quarterly)
Instructors: Rita Steeple/ Tom Sketchley
Skill Level: Beginner and Beyond
Sampler Quilt
Each month, a different traditional quilt block will be featured. Throughout this series we will explore blocks which feature curved piecing, appliqué, paper piecing, use of templates, folded fabric, half square triangles and flying geese, or a combination of techniques. This is an opportunity to learn a variety of traditional quilting techniques, which you may not have previously explored. Take one class in a technique, repeat the block and make a quilt or take the entire series of nine classes and complete a sampler quilt. The final class in this series will focus on the use of filler blocks to complete your quilt.
Note: Not all blocks shown in the sample will be taught in class.
Dates via Zoom: Wednesday, Oct 21, Nov. 18, Dec 16, at 10:00am – 12:00pm
Fee: $15/ Month – sign up for 1 or sign up for the quarter
Instructor: Rita Steeple
Skill Level: Beginner and Beyond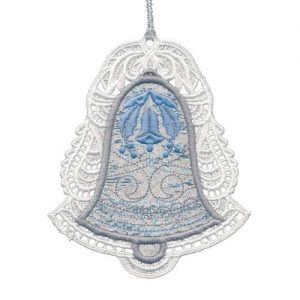 Silver Bells Ornaments
Transform your tree with ornamental elegance! Soon it will be Christmas Day, so get your silver bells ready and turn your tree into a magical embroidered creation with these 24 freestanding lace and applique ornaments.
Date via Zoom: Tuesday, Nov. 17 at 10:00am – 12:00pm or Tuesday, Nov. 17 at 6:30pm – 8:30pm
Fee: $15 + Pattern Cost $97.95 (Sign up by Oct 15 and get the pattern for $49.95)
Instructor: Lori Bandong
Skill Level: Must have Basic Embroidery Skills
Class Policies and Procedures:
Preregistration is required for all classes
One participant per Class Fee, even if sharing Zoom link.
Payment required at time of registration. Phone registration taken with credit card payment
Cancellations must be made 4 business days prior to class for a full refund
We reserve the right to cancel a class 48 hours before class, with full refund, if registration is too low.
Please ensure you have your supply lists and all supplies before class.
If you do not have the supply list 7 days before class, please call the store
Please have the Zoom software loaded on your device prior to the beginning of class.
Tom's Sewing Centre
Open Monday – Friday, 9:30am – 5:30pm & Saturday, 9:30am – 5:00pm
#102 – 8338 – 120th St
Surrey, BC
604-507-2841
Countryfolk Fabric
New Hours: Tuesday – Saturday, 9:30am – 5:00pm
#5 – 45802 Luckakuck Way
Chilliwack, BC
604-824-5643
Burnaby Sewing Centre
Open Tuesday, Thursday & Saturday, 10:00am – 5:00pm
6190 Kingsway Ave
Burnaby, BC
604-437-1633
Email: info@tomssewing.com
Facebook: https://www.facebook.com/tomssewingcentre/
Website: https://www.tomssewing.com